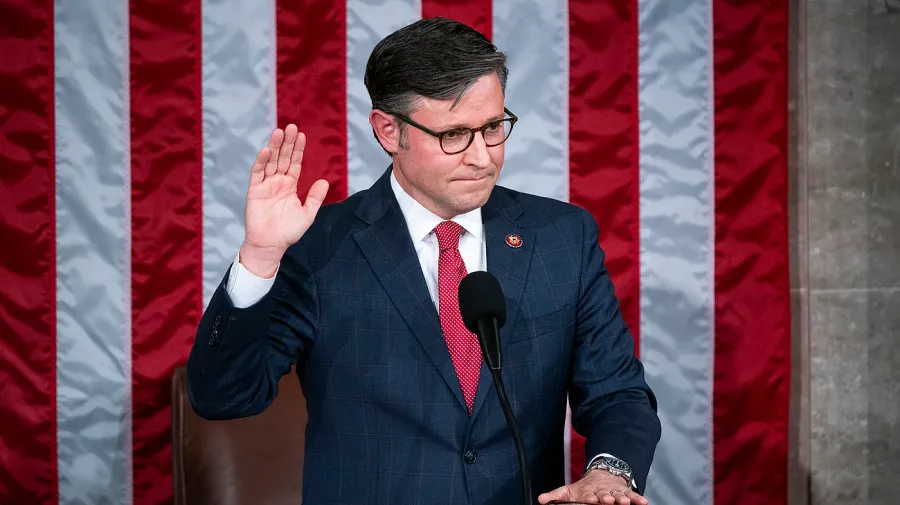 Meet the New. Speaker of the House Mike Johnson
Soon to be probably known as America's Worst Political Nightmare.
Make no mistake. While he may be more presentable and polished than a Jim Jordan or Steve Scalise, there does not seem to be a mainstream bone in his MAGA-White Christian Nationalist body.
As NBC reports, Mr. Johnson's political leanings stretch to the reactionary extreme.
Reproductive Freedom: No way.
LGBTQ Civil Rights including the permit of same-sex marriage: Not in Mr. Johnson's world view.
Separation of Church and State: A blasphemous to the new House Speaker.
Supporting Donald Trump's election denialism: he was one of the first signups and helped circulate legal positions to support it. This is obviously why the twice impeached and four-time indicted former White House occupant blessed the relative newbie (he was only elected to the House in 2016.)
Supporting bipartisan measures like the Infrastructure Law, the CHIPS Act, aid to Ukraine, and the recent vote to keep the government open: is not in his political DNA.
This is why it is not surprising that the Biden/Harris Campaign and incumbent/ candidate Arizona House Democrats and Independents, gave universal condemnation to the election of Mr. Johnson today.
The Biden/Harris Campaign, while the President issued the public good wishes/hope we can work together message from the White House, issued a blistering statement highlighting Johnson's extremism.
"MAGA Mike Johnson's ascension to the speakership cements the extreme MAGA takeover of the House Republican Conference. Now, Donald Trump has his loyal foot soldier to ban abortion nationwide, lead efforts to deny free and fair election results, gut Social Security and Medicare, and advance the extreme MAGA agenda at the expense of middle-class families. 22 days before Congress must act to avoid a government shutdown and while our allies overseas at war depend on our help, extreme MAGA House Republicans elevated a man to second-in-line to the presidency who still won't admit President Biden won the 2020 election. The American people have rejected the extreme MAGA ideology at the ballot box because they understand what's at stake. And so to every MAGA Republican who supported this choice: We'll see you in November."    
In her statement, the Arizona Congressional District (CD) Six Candidate Kirsten Engel condemned incumbent Juan Ciscomani's continual support for extremist Republican speaker nominees like Mr. Johnson, writing:
"Once again, Juan Ciscomani caved to his MAGA Republican allies and elected an anti-abortion zealot and election conspiracy theorist to be the next Speaker of the House. Ciscomani has refused to act in a bipartisan manner to get things done for our district, instead choosing to grind our government to a halt for over three weeks while Arizona's families paid the price. He cannot be trusted to represent our interests."
Arizona's Senior House Representative Raul Grijalva posted on social media:
Representative Greg Stanton issued a brief statement that read:
"After more than three weeks of paralysis and dysfunction, House Republicans have rejected bipartisanship and are instead attempting to install an extremist election denier as second in line to the presidency."
He also posted on social media.
Two of Congressional District One's House Democratic Candidates issued statements linking Republican incumbent David Schweikert to his support of Johnson.
Andrei Cherney wrote:
"David Schweikert just voted for an election overturning, climate-denying, abortion banning extremist for Speaker. No, he didn't vote for himself. He voted for Mike Johnson."
Conor O'Callaghan offered:
"Mike Johnson was one of the architects behind the Electoral College objections on January 6th and one of the chief election deniers of 2020. David Schweikert is propping up an insurrectionist. We need to defeat David Schweikert and bring order to the House. Our democracy is too important."
Independent Clint Smith, who is running against Johnson's kindred spirit Andy Biggs in CD Five, relayed in a statement:
"It is deeply troubling that the new Speaker of the House is an individual with radical views who was voted in and supported by Andy Biggs. It's regrettable that the party of Lincoln is promoting someone deeply connected to the propagation of The Big Lie and the overturn of the 2020 election. The new Speaker, much like Andy Biggs, has demonstrated that he will work to undermine our democratic institutions with an extremist agenda.




Source link

Author: David Gordon