Of course, no one is coming to Trump's house at Mar-a-Lago or NY apartment to arrest him. His lawyers will be told in advance to surrender him inside the courthouse after the Indictment is returned and security arrangements have been made. There will be no perp walk.
As for saying it will happen Tuesday, even his spokesman today said that was a guess. One of his lawyers suggested the source of his tweet was news reports.
A Trump spokesman later on Saturday said the former president hasn't been notified that he will be arrested and charged. "President Trump is rightfully highlighting his innocence and the weaponization of our injustice system," the spokesman said.
I think the issue will be whether the state can prove the felony crime of falsifying business records versus the misdemeanor version of the same offense.
To elevate the crime to a felony charge, Mr. Bragg's prosecutors must show that Mr. Trump's "intent to defraud" included an intent to commit or conceal a second crime.
That second crime could be an illegal attempt to violate New York campaign laws by authorizing Cohen to make the payment to Daniels on his behalf and then re-paying Cohen in monthly installments disguised as a retainer for legal work that was never performed or intended to be performed or at a time when no retainer was in place. Or maybe it would just be approving the false categorization of the reimbursements as legal expenses in his financial records.
Daniels never met with Cohen or Trump during the time period of the payments. Her lawyer negotiated the details. Cohen made the payment to Daniel's lawyer from his his personal line of credit on his home mortgage. Why? He has said that because two payment dates to Daniels had come and gone, and Trump was on the campaign trail and he couldn't find him, she was canceling her agreement to stay silent. So at the last minute, Cohen made the decision to personally pay her. After Trump took office, Trump paid Cohen back in monthly installments of $35,000. The payments included a bonus and an amount for the taxes Cohen would likely have to pay.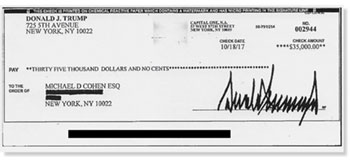 There were 8 checks altogether. Six were written by Trump and one each by Don, Jr. and Alan Weisselberg.

Altogether, Mr. Trump or his trust paid Mr. Cohen $420,000, according to federal prosecutors. Of that, $130,000 was to reimburse payments made shortly before the 2016 election to Ms. Daniels, whose legal name is Stephanie Clifford, so she would not tell her story. Another $50,000 was for Mr. Cohen's effort to manipulate online polls to inflate Mr. Trump's reputation as a businessman.


That $180,000 was then "grossed up" with another $180,000 to offset taxes that Mr. Cohen would have to pay on the original money since it was being treated as income. Another $60,000 was added as a "bonus," prosecutors have said.
Trump's defense team and several Republicans have opined that this is not a strong case against Trump. Republicans of course say indicting Trump will be bad for the country and democracy. That's ridiculous, in my opinion. I believe Trump reduced our global standing in the world for decades to come and is the source of any threat to our democracy. I don't think the nation will be any worse off if he is charged. I think foreign governments will cheer that Americans are taking back their country and freeing themselves from the man who never deserved to have a desk in the oval office to begin with.
I also don't think Trump's actual supporters will riot (as opposed to unhinged people who just want to riot and will do so in his name as an excuse). On the other hand, should he be indicted and his lawyers successfully get the charge dismissed before trial, his claims to be a persecuted victim may resonate with more Republicans, and that could affect the 2024 election.
The issue is likely to come down to Trump's intent in making the payments to Cohen. What if Trump's reason for silencing Stormy was to keep Melania from being publicly embarrassed rather than influencing the election?
It wasn't to keep Melania from finding out since Daniels claim was published in the media back in 2011. If he were trying to keep her from finding out, he would have made the payment then.
A witness is scheduled to testify Monday before the grand jury. It attorney Robert Costello, who Trump's legal team has offered as a rebuttal witness to attack Cohen's credibility. (In addition to targets of the grand jury getting notice of their right to testify, they can submit the name of someone to testify on their behalf. It's up to the grand jury whether they want to hear from the person.) Cohen long ago waived his right to confidentially with Costello, whom Cohen has sought out as a bridge to communicate with Rudy Giuliani and Trump prior to his decision to cooperate with the Government.
Not surprisingly, according to the Wall St. Journal (link above), if Trump is indicted in New York, he intends to continue seeking the Republican nomination. Of course he does. Only if he reclaims his desk in the oval office does he have the ability to stall the myriad of other and more serious criminal investigations into his conduct, under the rubric that a sitting president cannot be indicted. There is the criminal investigation by a state grand jury in Georgia, and federal grand jury investigations into the January 6 riots and his alleged mishandling of classified evidence.
It seems to me if all of these investigations were politically motivated to prevent him from having power, New York, Georgia and the federal government could coordinate the unsealing of indictments in New York, Georgia and Washington, DC to occur on the same date, so that Trump had to fly to all three courts on the same or sequential days to surrender. I can only imagine what the network nightly news shows would look like on those days. The public isn't stupid. Show them Trump's limo at the courthouse in NY, they shrug it off. But show them Trump's limos going to courthouses in three different jurisdictions to respond to totally separate sets of charges in rapid succession and they'll react like they typically do: "He wouldn't be there if he didn't do something wrong." It's fallout from the 1990's era of cable news crime show hosts: Guilt sells in America while the presumption of innocence is given lip service.
I will be clear, however, that even Donald Trump is presumed innocent until and unless he's proven guilty in a court of law (not your living room).


Source link

Author: Jeralyn