This is not new to anyone familiar with Turning Point USA working closely with the Pentecostal Dream City Church Assemblies of God mega church in the greater Phoenix Area. (The Assemblies of God church considers salvation, baptism in the Holy Spirit with the evidence of speaking in tongues, divine healing and the Second Coming of Christ to be its four core beliefs.)
Tim Dickinson reports at Rolling Stone reports, Charlie Kirk's 'Turning Point' Pivots to Christian Nationalism:
TURNING POINT USA — the right-wing powerhouse run by Charlie Kirk — began as a campus crusade for capitalism. Its mission, as recorded with the IRS since 2012, is to enlighten students about "fiscal responsibility" and the virtues of "free markets." [Pfffft. as if. They have been radicalizing college Republican frat boys into fascism and the Proud Boys.]
But in recent months, TPUSA has adopted a cause that's very different from foisting Milton Friedman on frat boys. The group is putting its cash, and its political cachet, behind Christian nationalism, promising to "restore America's biblical values." Indeed, TPUSA has embraced a new crusade to "empower Christians to change the trajectory of our nation."
TPUSA's faith initiative is currently backing the reactionary preacher Sean Feucht in his Kingdom to the Capitol tour, where he's staging "revivals" at the nation's 50 statehouses. The MAGA preacher is explicit about the aim — declaring that he wants "believers to be the ones writing the laws!" and pleading "guilty as charged!" to Christian nationalism. "It's all part of The King coming back," Feucht told followers in Oklahoma — a reference to the second coming of Jesus. "That's what we're practicing for."
Dude, I'd be happy to give you a "sneak peak at Jesus" right now! (h/t Adventures of Brisco County Jr.).
TPUSA is also sponsoring a "Pastor's Summit" in Nashville, Tennessee starting May 24. It promises to empower attendees to "stand boldly for righteousness in a world that desperately needs Jesus." The speaker lineup includes Eric Metaxas — emcee of the Jericho March that sought divine intervention to keep Trump in power in late 2020 — and Pastor Rob McCoy, Kirk's spiritual mentor and co-chair of TPUSA Faith. The doctrine of McCoy's church insists that Jesus will "return to Earth" to establish "a kingdom of which there will be no end" and demands that all believers "fulfill His command to preach the gospel to the entire world."
To be plain, the free-market activism of TPUSA continues. The group touts a presence on 3,500 campuses. But the energy at the top of the organization has shifted away from engaging students — who increasingly look like a lost cause to the conservative movement — to marshaling the nation's [evangelical] churches to the frontlines of Republican politics. In an August event sponsored by the Christian nationalist news program Flashpoint, Kirk inveighed against the "homosexual agenda" and touted "a defining moment for us as Christians," promising believers victory in the culture war: "We wake up, they lose," Kirk said.
Turning Point's pivot mirrors a seismic shift in the conservative movement away from trickle-down economics and into the culture wars, particularly around issues of race, gender identity, and abortion. And it reflects a party that sees political salvation, not in minting a new crop of free-market bros, but in mobilizing a base of white evangelicals who don't always turn out to the polls, but fervently back the GOP when they do.
Kirk did not respond to Rolling Stone's request for comment about the new crusade at Turning Point. But the focus on fundamentalism represents a clear-and-present danger to democracy. Targeting a younger generation to raise up champions of lower taxes and fewer regulations is one thing. It's quite another to seek to organize end-times zealots, with the aim of achieving a religious takeover of the secular United States.
The "Kingdom to the Capitol" Tour 
Christian nationalism is a belief system held by a minority of Christians who argue, against the facts of U.S. history, that America was founded as a Christian nation. They believe in a "fusion between a particularly conservative and ethnocentric expression of Christianity, with American civic life," Andrew L. Whitehead, a professor and author of American Idolatry: How Christian Nationalism Betrays the Gospel and Threatens the Church, tells Rolling Stone. 
Adherents, Whitehead says, believe that "the country was founded for Christians like them — generally natural-born citizens and white — and that the federal government should preserve that framework." It's a movement that literally demonizes opponents as agents of Lucifer. And this totalitarian, with-God-or-with-the-devil outlook, Whitehead has explained to Rolling Stone, presents an "existential threat to democracy, because democracy is about varying groups with different visions for society, competing to have a say, or to find areas of compromise."
Actual economists see a "big conflict" in Turning Point USA's new, dual missions — championing both free markets and Christian supremacy. Peter Boettke directs the F.A. Hayek Program for Philosophy, Politics, and Economics at the Mercatus Center, a libertarian think tank at George Mason University. He insists that free markets require "a political system that exhibits neither discrimination or domination," because true market freedom is about organizing the "purposes and plans" of individuals — not imposing the purpose and the plan of an all-knowing God.
Overt Christian nationalism gets TPUSA's backing in its sponsorship of Feucht's Kingdom to the Capitol tour. Modeled on the success of the MAGA preacher's Covid-era protests defying public-health restrictions on churches, Feucht is staging praise concerts at the statehouses in all 50 U.S. capital cities. TPUSA touts Kingdom to the Capitol as "our most ambitious and historic revival tour yet," and encourages believers to "hear the bold call for the Church to rise for this historic moment we were literally born for!" [Overthrowing the government of the United States!]
The relationship with Kirk and Feucht stretches back to before the pandemic. Kirk publicly backed Feucht when the faith leader made a failed 2020 bid for Congress from California. Feucht officially joined the organization as a "TPUSA Faith Contributor" in February.
The Kingdom to the Capitol series kicked off in Washington D.C. in March, with the illicit boost of Rep. Lauren Boebert — herself a Christian nationalist — who has bragged about sneaking Feucht into the Capitol Rotunda for a praise service. "We walked into the Rotunda and we honored God. We put him first," Boebert told supporters. "We prayed for God to move in the people that He has positioned in this time — for His people to rise up. And I believe He heard our prayers."
In most locales, the Feucht concerts resemble protests on the steps of the Capitol. But in a few red states, Feucht & Co have been welcomed into the halls of power. In both Austin and Indianapolis, Feucht and his followers have briefly transformed the statehouses into houses of worship — erasing, if briefly, any distinction between church and state. Inside the Indiana Capitol, Feucht prophesied over Lt. Governor Suzanne Crouch: "You're going to be filled with favor," Feucht told the Republican. "We thank you, Lord, that you have put her in a position of authority over this state!"
Christian nationalist Sean Feucht prayed a blessing over Indiana Lt. Gov Suzanne Crouch after she arranged for them to hold a prayer rally inside the state capitol. Feucht promised that Crouch will be "filled with favor" for giving them access. pic.twitter.com/ur3ySqVhfR

— Right Wing Watch (@RightWingWatch) May 8, 2023
The tour will continue into the summer, capping off in Idaho in late July. Across these travels, Feucht has been bold about the aim to have Christians reshape America in preparation for the second coming of Jesus. "People think we're crazy — and 'Christian nationalists,'" Feucht told the crowd in Indiana. "I'm like: Yeah. We want God in control of government. Yes. We want God writing the laws of the land," Feucht said. "That's us!"
Kirk's Brand of Christianity
Kirk, for his part, doesn't contest the Christian nationalist label as much as he taunts those who use it. In his August 2022 Flashpoint speech, in front of a live audience in Forth Worth, Texas, the 27-year-old TPUSA founder said liberal critics are decrying a "disturbing movement of 'Christian nationalism.' Do you know what that's code for?" he asked the believers in the audience. "That's code for: You're starting to care, and they're getting scared."
Two-bit punk. Someone oughta smack the stupid out of this fool.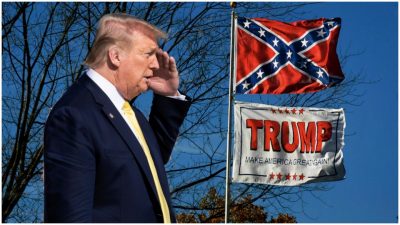 Kirk said little to champion economic freedom. He railed instead against Pride month, rainbow flags, and "gay orgies" in San Francisco [sounds like someone's worried about his latent homosexuality to me]. "Are we a conquered country at this point?" he asked. "It's like you see the gay flag more than you see the United States of America flag." He warned that "our nation's young people are being targeted by The Enemy" — meaning Satan — who is attempting to "turn" them toward "secular humanism."
Actually, I see those idiots in their big high riser pickup trucks flying their flags of treason more than I have ever seen a pride flag flying anywhere.
Kirk insisted that churches needed to court political controversy because the Bible is not neutral: "The Gospel says that we are so flawed that you need to give yourself to Jesus Christ and only through him you get to eternity," Kirk said. "If that's not controversial, then what exactly is controversial? Jesus says, 'I am the only way.'"
Kirk called on Christians to turn their backs on "cowardly" churches and "complicit pastors" and to rally behind "courageous" congregations that "stand for truth and righteousness, regardless of the cost." [In other words, abandon established churches for the Pentecostal evangelical TV preachers and mega churches grifting off the faithful, radicalizing them into Christian Nationalism in pursuit of political power.]
The Pastor's Summit
TPUSA kicks off another Christian nationalist party this week, hosting its second annual "Pastors Summit" in Nashville, Tennessee, that touts the aim of "equipping and empowering both pastors and their churches to stand for Biblical truth."
The speaker lineup includes a slew of religious figures, and even a few big-name draws like [Coup Plotter insurrectionist] former Trump Chief of Staff Mark Meadows and [the heretical] prosperity gospel guru Dave Ramsey. But opening day proceedings are anchored by Kirk and his spiritual leader Rob McCoy, a southern California pastor who rose to national prominence during the pandemic by holding unmasked worship services in violation of public-health restrictions.
At TPUSA's first Pastor's Summit in San Diego last year, Kirk credited McCoy as, "the man who helped inspire TPUSA Faith." He recalled a conversation in which McCoy convinced him that economic freedom and Christian theology were linked. "If you're a Christian and you're fighting for liberty every single day, that's the same cause," McCoy told Kirk. "It's God's heart for his people to set the captives free."
Kirk recognized that some pastors might be skeptical of TPUSA as a religious messenger. But he argued: "We can agree that the most important thing is to win souls for Jesus Christ, and the second most important thing is to make sure we could still do the first thing."
"That second thing," Kirk insisted, "is what I do every day. We do it on high school campuses, radio, podcasting — that's our mission." As far as theology goes, Kirk touted that TPUSA is "very focused" on the "inerrancy of scripture" and the Nicene Creed.
McCoy — a silver haired Californian with a good tan — took the stage with Kirk, wearing khakis and eschewing a tie. He talked of his partnership with Kirk and TPUSA as a natural pairing. "I felt like I was going through my life with two left shoes, and you were wearing two right shoes," he said to Kirk. "And then we met each other, and we said, 'Wow, you can help me.'"
With McCoy, Kirk pitched the pastors on becoming a political force, even if it put their finances — and perhaps their IRS nonprofit exemptions — on the line. "Some pastors will say, 'If I speak out, I will lose attendance, I will lose tithes and offerings,'" Kirk said. "To which I say, 'So what?'"
Kirk offered pastors a "buffet line" of options for challenging federal restrictions on churches preaching politics from the pulpit. (Churches, like all nonprofits, don't pay taxes as long as they don't make explicit political endorsements.) Kirk touted the example of a "cowboy" preacher who sends his political sermons to the IRS and dares the feds to audit him, as well as less extreme measures "if you want to challenge the IRS."
(Here it must be noted that TPUSA, a supposed non-partisan organization, does not practice what Kirk preaches. It requires that its religious partners sign an agreement acknowledging that "TPUSA Faith Groups/Hubs who participate in campaign activities of any kind may jeopardize TPUSA's 501(c)(3) status," and that any "Faith Groups found participating in campaign activities will be disassociated immediately.")
In his speech, Kirk portrayed the need for churches to engage in politics as having existential stakes: "If the American church does not rise up with boldness," he insisted, "Western civilization will be something that we tell our grandkids about."
Fallout from Falkirk
The TPUSA sidestep into the faith world began fairly naturally. Kirk, the longtime campus organizer, developed a relationship with Liberty University [founded by Jerry Falwell], the fundamentalist religious school, after Kirk was awarded an honorary Liberty doctorate in 2019. (Kirk dropped out of community college to found TPUSA a decade ago.)
Kirk and then-Liberty honcho Jerry Fallwell Jr. teamed up to create the Falkirk Center at the university, a far-right "think tank" that didn't perform any traditional scholarship, but platformed MAGAworld grandees like Metaxas, Sebastian Gorka, and Rudy Giuliani. The New York Times dubbed Falkirk the "de facto headquarters of evangelical Trumpism."
Kirk's shift into the spiritual realm was initially dismissed by others in the far-right movement. Religious conservative Rod Dereher, blasted Kirk's campus organizing as "Hooters Conservatism" that did not serve God. "I like eccentric spectacle, and if Charlie Kirk's right-wing frat boys and girls want to party in West Palm Beach in the middle of a deadly pandemic, well, let them do them. But you know what, Charlie Kirk?," he wrote, "You better leave Jesus out of this dirtbaggery! This vulgar trash has nothing whatsoever to do with God."
Can I get an Amen and Hallelujah!
When Fallwell's myriad scandals finally led to his downfall, Liberty U also gave Kirk his walking papers in early 2021. Kirk had his own baggage, having been entangled in fallout from the events of Jan. 6. Kirk had bragged, in a since-deleted tweet, that Turning Point Action — the explicitly political arm of TPUSA — had helped bus activists to D.C. to "fight for the president."  Under questioning from the Jan. 6 committee, however, Kirk repeatedly invoked the Fifth — including to questions like, "How old are you?" [Another Coup Plotter insurrectionist – hopefully Special Counsel Jack Smith has an indictment for him as well.]
After Falkirk fell, Kirk then moved to launch TPUSA Faith. In a leaked 2021 "Investor Prospectus" for donors — highlighted recently by Media Matters in an examination of the TPUSA leader's religious evolution — Kirk touted the faith initiative as a curative to "America's crumbling religious foundation," promising to provide "thousands of churches with the resources they need to activate their congregations to fight." The document indicated that TPUSA Faith would have an operating budget of $6.4 million.
In TPUSA's sea change from college organizing around economic issues to church organizing around Christian nationalism and the culture wars, there appears to be a recognition that conservatives have largely lost the fight for the hearts and minds of educated young people. In the 2022 midterms, voters under 30 have gotten credit for defusing the "red wave," turning out in near record numbers and decisively backing Democrats in key state races.
In fact, Kirk himself seems to have soured on the promise of higher education. His latest book — The College Scam: How America's Universities Are Bankrupting and Brainwashing Away the Future of America's Youth — advises young people to turn to trade schools and the military instead of university. In a December interview with Gene Bailey, the Christian nationalist host of Flashpoint, Kirk insisted: "Sending your child to four-year college is a big risk. You're going to play Russian roulette with their values."
For now, TPUSA is keeping its free-market and its Christian fundamentalist wings at a distance. TPUSA and TPUSA Faith operate under the same nonprofit umbrella, but have separate websites and few links between them. Experts in the field of free market economics believe the straddle Kirk and TPUSA are undertaking makes sense if the goal is to stay relevant as a power player in conservative politics. But they describe the two-headed hydra as intellectually incoherent.
"People that want low taxes and low regulation have aligned with other people that are more concerned about regulating our social lives," says Boettke, the Mercatus scholar. "They end up being partners together, rather than enemies, just because of the coalitional politics," he argues. "But there's no intellectual reason, principled reason why they should even be friends."
I've said before that this fascist punk Charlie Kirk can pack up his shit at Turning Point USA and get the hell out of Arizona, and move to the Fascist State of Florida.




Source link

Author: AZ BlueMeanie